Bonasila is a vivid collection of Fiber Reinforced Plastic (FRP) Planters or as you usually hear it, fiberglass planters.
Elegant looking, unbreakable, eye-catching fiber planters that make you fall in love with your surroundings everyday.
Be it commercial spaces or homes, our designer planters blend in and stand out everywhere. Bonasila Planters was founded in Ahmedabad, India in 2017. Our designer pots have reached 19 states of India and 5 countries in the world with 35 designs including 226 SKUs with 12 matt and gloss colours. And also 4 Texture and 14 Rustic finishes.
As you choose your favourite planter from our wide range, you will be surprised to see how it turns out to be exactly like you imagined.
No less, maybe more!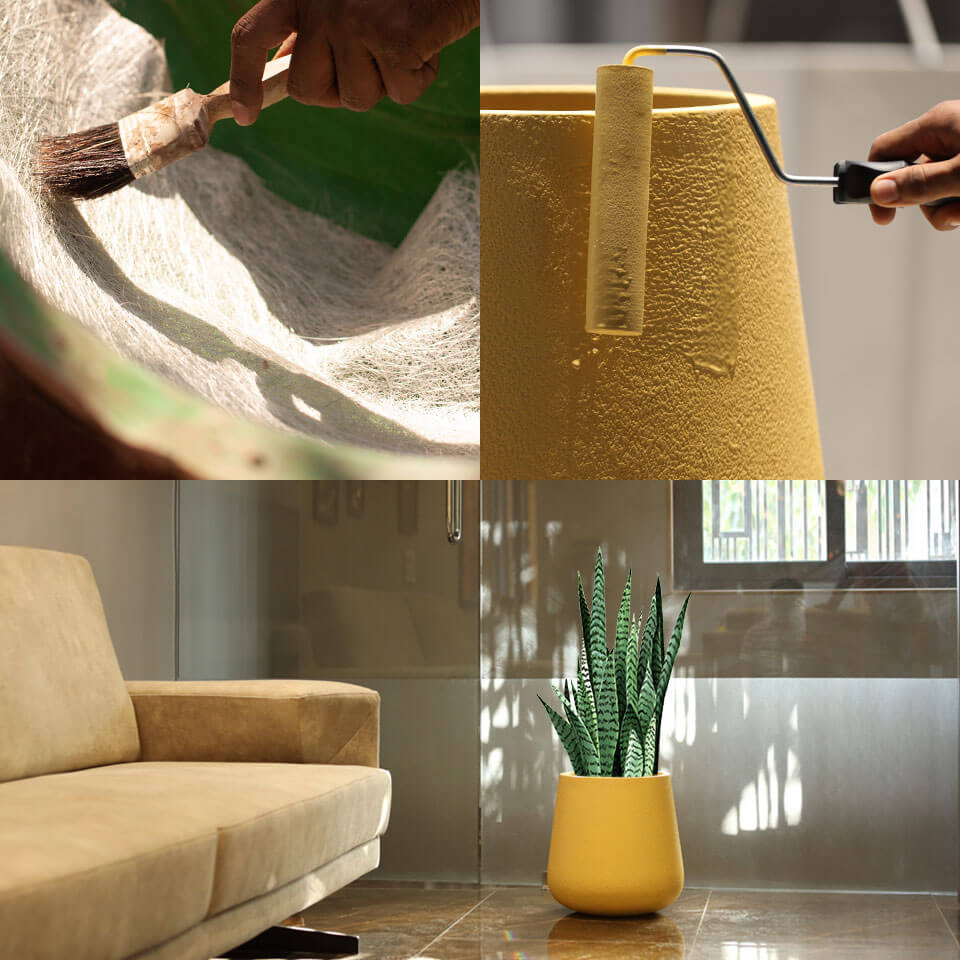 Experience
the perfffection,
up close!
When we sell planters, we also think as if we are buying planters. And we ask ourselves, "what would we expect with this product? Durability? Good Quality? Value for Money? We question ourselves, so that you don't have to. Because, we guarantee that all this is taken care of.
Our FRP planters continue to remain in the original condition in which you bought them, for many years! We take pride in saying this and we have our reasons.
For instance, the thickness of our planters varies in accordance with their size and volume, so that they do not get misshapen over time. Once this is taken care of, we pay attention to the external surface. We use Automotive paint (for matt and gloss finish) and Exterior paint (for texture and rustic finish) that ensures our planters don't fade under the direct sun, rain, cold or harsh weather conditions.
We work relentlessly to make the perfect planters, but there is always scope for improvement. So if you have any suggestions, we're all ears!
Bonasila's planters, such attention-seekers!
Our designer planters always steal the spotlight. You know why we say that? Because a guest at home or a visitor at the office, will surely ask you about these planters.

Sizes, Shapes, Colours and Textures for all.
When you are at home, your idea of a happy space is unique, it stands out! So you choose planters as unique as you from our collection. At work or at a commercial space, you want to stand out and yet blend in with the surroundings you already have. No problem! You will find just what you are looking for and we call it, 'The Beauty of Bonasila'.
NewoTM Collection
We are designers by heart, by profession, by roots and by blood!
Having a branding background, designing runs in our veins. This is why, we cannot stop ourselves from creating something new time and again. We keep updating our collection by adding new designs, shapes, sizes and colours. Find them all here!
Explore the Newo Collection
ExistoTM Collection
The collection that is close to our hearts, because these are the designs we started with.
Whether it is an office or a balcony, a room or a cabin, a hotel or a home entrance, our Existo collection can add a touch of excellence. Everywhere. Vivid shapes, variety of sizes, smooth as well as sharp edges, attractive finishes and so much more; Existo collection boasts of adding beauty wherever it exists.
Explore the Existo Collection
MassioTM Collection
So massive, they'll hold a huge space in your heart too.
Looking for something larger than life? Look no further. Massio collection boasts of a massive range of planters from 3ft. - 5ft. tall and upto 3ft. wide. Meant for resorts, villas, hotels, corporate houses or any outdoor spaces, this collection is apt for hosting large plants.
P.S.: You may need a massive amount of time to make a selection from this massive range.
Explore the Massio Collection
MarbeloTM Collection
Marble finish on FRP planters? Yes, you read it right.
When you place any planter from the collection in your spaces, someone will surely ask you, "is this made from marble?" And you'll say, "NO, this is marble finish on FRP planters, they're so lightweight and so beautiful." A combination of beauty and strength, Marbelo collection is the perfect for those who always like to go for 'something elegant'.
Explore the Marbelo Collection
RezeloTM Collection
One shape, many sizes, colossal range!
Existo, Newo and Tabto are jealous of this vast range. They ask, "what is it that you have, that makes people choose you first?" I am not sure, maybe it is my simplicity" says Rezelo!
Residences- small or big, Commercial Spaces- compact or huge, Rezelo Collection will always have one size that can fit any space that you have.
Explore the Rezelo Collection
TabtoTM Collection
Look around you, got a table nearby? It deserves a Tabto by Bonasila!
Whether it is a table at your workplace or in your room, the joy of having a plant cannot be explained!
The happiness of growing a plant and seeing life blossom in it is something that you can only experience by doing it. Add a touch of life to your table with our flower pots from Tabto collection.
Explore the Tabto Collection
Plant lovers around the world love Bonasila
Meeting a Bonasila Planter is like falling in love at the first sight! What is it like to decorate your space with Bonasila Planters? Hear it from our customers in their words.
We were searching for elegant looking fiber planters & came across Bonasila from India. Bonasila matched our specific size & colour requirements and despite of a worldwide lockdown, they delivered well in time.
We got a wide variety of colours and design options with Bonasila. Their team catered to our needs perfectly and the delivery was done well-in time.
We are glad with the quality they provided to us and these flower pots go well in sync with our decor. We found exactly what we were looking for.
We were looking for large FRP planters and browsed through several manufacturers and found Bonasila. Right from the designs, colour options to the quality, we were very happy with the quality.
For the clubhouse of the World's Largest Cricket Stadium, we were looking for a company that could match our requirements. The samples provided by Bonasila planter manufacturers were perfect & they delivered exactly what we wanted.
For our newly constructed Goyal House, we were looking for custom-made high quality planters. On seeing one sample by Bonasila, we knew they are the right choice for us.
We do everything
from scratch.
And we love the process and that freedom too :)
We at Bonasila are ruled by the touch of craftsmanship and mastering the art of perfffection.
We sketch our planter's designs, choose the best ones, even make the moulds inhouse and then check the feasibility before commencing the manufacturing process.
Automation is an important part of our process but we do not let it become our limitation. Each FRP planter that we manufacture, is a reflection of us and our brand, so there is no way we can take leisure at any step.
This is why we can strongly vouch the quality of each and every planter.
You may have seen us in